Vicostone Quartz Surfaces
VICOSTONE quartz based engineered stones are produced from up to 93% pure natural quartz aggregates which are adhered with a polymer resin with color powder, and have a hardness and flexural strength which is much higher than natural stones and other engineered stones. With a special and luxurious beauty, VICOSTONE compound stones are widely used in interior applications such as kitchen countertops, bathroom vanities, wall paneling, and flooring…
Certificates
VICOSTONE is certified by NSF for food safety (ANSI 051) and certified by GreenGuard to be free of volatile organic compounds. VICOSTONE is proved to be Microbial Resistant by reputable organizations. This confirms that our products are environmentally friendly, prevent mold growth, and are anti-bacterial, making them completely safe for the food and health of our customers.
American Presence
Our products are being distributed all across America with 4 fully stocked warehouses of VICOSTONE products. VICOSTONE is also stocked across America by utilizing many 3rd party distributors' warehouses. With a strong and reliable distribution network, VICOSTONE will help you easily find a design for your dream home along with receiving the best customer service possible.
Environmental Commitment
VICOSTONE considers environmental protection as a top priority. Building a better and greener environment for today and for future generations lies at the core of VICOSTONE's business ethics.Certified to ISO 14001:2004, all VICOSTONE activities are tightly controlled and annually audited by the International Organization for Standardization (ISO), creating and protecting a sustainable development.
VICOSTONE requires minimum maintenance
Use only mild detergent and tap water for daily routine cleaning, and rinse thoroughly after cleaning.
For stubborn spots, instead of mild detergent apply a household mild, non-abrasive cleanser with neutral pH (pH is between 5 and 9) on a damp, moisten soft cloth or non-abrasive sponge, and make sure to rinse after cleaning.
If accidentally food, chewing gum, nail polish, paint or any other foreign matter found sticking to the top/floor, simply scrape away the same with a sharp blade or sharp plastic scraper. Then wash and rinse the surface in the normal way with water.
It is advisable not to use hydrofluoric acid, any product containing trichlorethane or methylene chloride and paint strippers.
VICOSTONE Quartz surfaces are designed and manufactured to withstand moderate heat and the product is not heat proof. We always recommend using a hot pad or trivet when setting down hot pans or cooking plates on your countertops.
Common kitchen implements including sharp knives won't harm the VICOSTONE Quartz surfaces. Continued use of kitchen knives on the bench tops could dull the polished surface. Care should be exercised when moving heavy objects and avoid dropping heavy kitchen tools.
It is advisable to avoid direct sunlight over a prolonged period on the surfaces.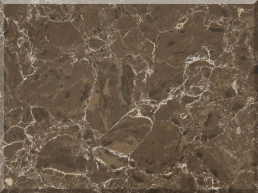 Dark Emperador Vicostone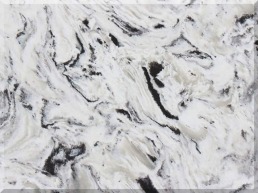 Alaska Black Vicostone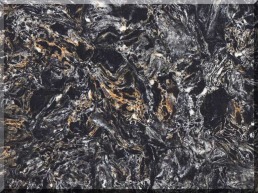 Cosmic Black Vicostone