Stone Countertops with Luxury Look & Comfortable Feel!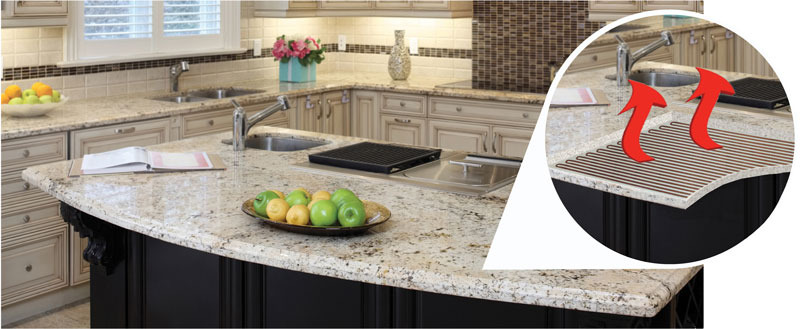 Increase the comfort of elegant granite and stone countertops with FeelsWarm Technology, a unique patented (pending) heating solution.  FeelsWarm heating elements eliminate the cold touch of stone countertops and build a soothing and pleasant feel.
Although stone countertops are beautiful and luxurious, they have one common problem:  They can feel cold or cool to the touch.  The surface of the stone is indeed room temperature, but compared to wood and other non-stone items, the stone feels cold.
FeelsWarm heated countertops raise the temperature of the stone 20 to 25 degrees – just enough to take that initial shock away when leaning on the counter with your arms or touching the surface in the morning.
FeelsWarm heated countertops are fitted with an ultra thin (under .015″ thick) heating element that is custom-engineered for each stone including shape, wattage, and electrical input location.  The FeelsWarm element pattern is precisely designed and installed to overcome the poor thermal characteristics of stone so that an even heated surface is created and that the front edge is the same temperature as the center of the heated zone.
Why Choose Feels Warm Technology For Your Countertops?
Customized to the Exact Countertop Shape/Size
Works on Any Type of Stone
Ideal for Overhangs
Safe Low Voltage System
Pennies Per Day to Operate
Heat Surface from Cold to a Soft, Warm State
Feels Warm comes in 2 different varieties to best suit your needs. 
Custom Stick-On
For customers looking to have heated countertops with a custom design or shape.  This option my also apply to those who desire to have heated countertops but already have stone installed in their home or business, FeelsWarm under-the-counter stick-on heaters are customized to the existing countertop's shape and design. The heating element is nder .025″ thick and constructed with a rugged outer layer for high impact and damage protection.  They are attached with permanent press-on adhesive  to prevent peel or delamination.  The electrical cord location is customized to match the location of existing power.
Standard Stick-On
FeelsWarm under-the-counter stick-on heaters are available in standard sizes for applcations where customization is not needed.
Available Sizes:  11 x 24   11 x 36   11 x 48   11 x 60   17 x 30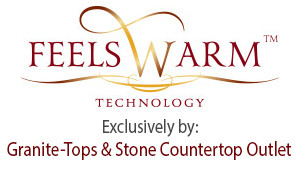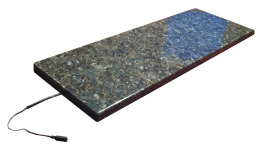 Nearly flush lower surface provides the perfect solution for overhangs and unsupported countertops